ABOUT OUR AUDIOBOOK PRODUCTION SERVICES
Our audiobook production fees are based on what is referred to as "Finished Hour Rate." This means we charge only for the produced and recorded material used in the mastered audio file. (There is a minimal charge of 1 hour for projects under an hour.) Your total cost of the produced audio is the master length of the full audio production multiplied by the agreed upon "Finished Hour Rate". (To get an idea of how long a book might run, you can use the following formula: 150 written words = 1 minute of spoken word.)
*Please note, until we have received a copy of the book or audio project along with any special features
you might require such as sound effects or music, we will not be able to provide you an accurate production quote.
SCRIPT PREPARATION
All texts are researched to ensure pronunciations, place names and dialects are correct and appropriate to the text content.
PROFESSIONAL NARRATORS
We have several in-house narrators with extensive performance experience in voiceover television, commercial, film and stage. We also have access to a great pool of talent here and around the world for all your special voice needs. At your request, BFV will provide a custom demo of 2-3 pages from your book so you may enjoy hearing just how your words will sound.
SOUND DESIGN
If you would like to give your audiobook a more polished sound, we have extensive royalty free music and sound effects library to add interest to the finished product. Original music is also available.
DIRECTING
Your project will be guided by experienced and award winning professionals to guarantee an artistic, high quality, product.
RECORDING STUDIO
Your book will be recorded in a studio with state of the art recording software, microphones and acoustical treatment for a superb sound quality.
EDITING
Care and attention will be given to each recording session to produce the best possible sound. The engineers will then take your recording and check every noise, pop, click and swallow to polish it till it shines.
QUALITY CONTROL
We will listen to every sound (music, sound effects, words) of the finished product, ensuring your project is a listening pleasure from beginning to end.
MASTERING
BFV will provide a duplication-ready master in any of the industry standard formats including, but not limited to:
MP3, AIFF, WAV, AAC, MP4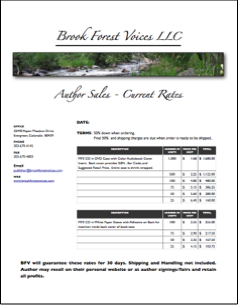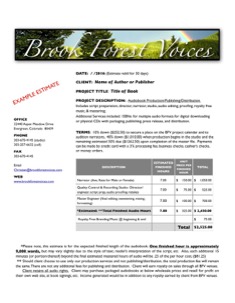 Submit manuscript by clicking on button.